Projects
---
Personal Limits
presented by
Magical Habits
,
Labyrinth Books
,
and
Princeton Public Library
A free, public virtual conversation series about contemporary experiments in personal-critical writing during the Fall of 2021 and Spring of 2022. Guests included Lili Loofbourow, Namwali Serpell, Dan-el Padilla Peralta, Sarah Chihaya, Alexis Pauline Gumbs, and other incredible folks!
Learn more
Organizing Stories: Toward a Scholarly-Activist Praxis
Co-founded and co-directed with Professor
Autumn Womack
since 2020, Organizing Stories creates new avenues of exchange between Princeton University and community-based, social-justice work to support and amplify a scholarly-activist praxis that builds on a tradition of connecting intellectual work and movement work.
Organizingstories.com
Women of Color Student-Faculty Corners
These gatherings offer a space on campus for women* of color students and faculty to gather around a set of topics of interest to students, including navigating campus, graduate school, cultivating mentor-mentee relationships, and interdisciplinary research.
Poetics of Material Life
An experimental symposium of historians, economists, poets, and critics with co-organizer, world historian
C. N. Biltoft
, to think together about what the study of poetics, broadly construed, contributes to our evolving understandings of modern market societies.
---
THE POETICS OF MATERIAL LIFE
An experimental symposium bringing historians, economists, poets, and critics together at Princeton University, co-organized with world historian C. N. Biltoft. November 2019.
SPIRIT PICTURES
A symposium about 19th century spirit photography at Duke University co-organized with Cheryl Spinner. Invited guests: Louis Kaplan, Dana Luciano, Shawn Michelle Smith. March 2016.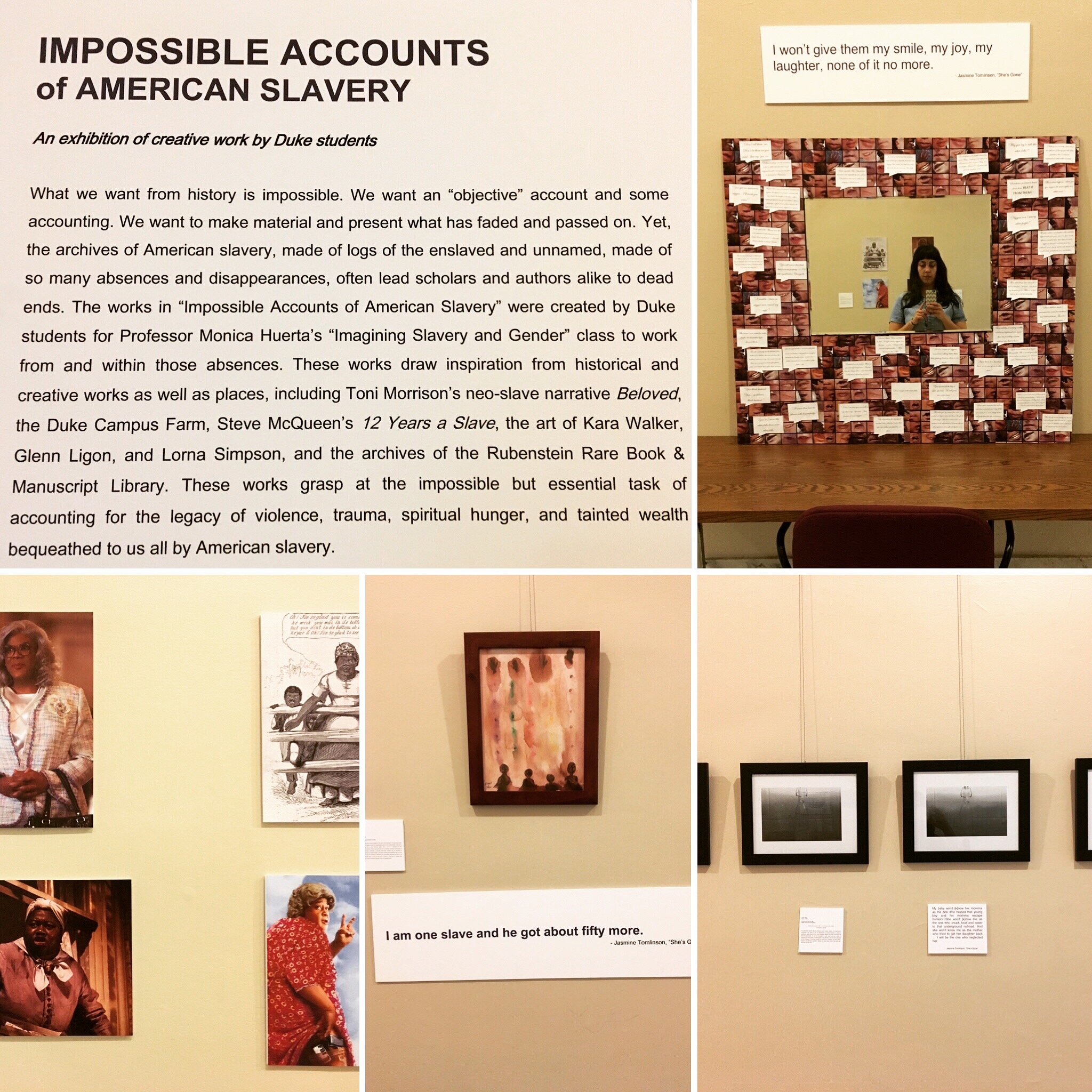 IMPOSSIBLE ACCOUNTS OF AMERICAN SLAVERY
Art exhibit in East Duke Hall at Duke University of student's final projects for "Imagining Slavery and Gender," which Professor Huerta taught at Duke in 2015.